Call us today at 434.579.1045 

Serving Halifax County, VA and surrounding counties

Often parents retire to resort communities to enjoy the warmer climates creating even greater distances between their loved ones. However, at some point in their lives, your parents, grandparents or a loved ones become unable to properly care for themselves. Suddenly you are faced with the challenge of finding suitable caregivers.  We understand that this time is stressful for both you and your loved ones.

Marsha's Home Care, LLC is family-owned and operated right here in South Boston, VA. Since our company opened its doors in 2007, our clientele and staff have grown nicely. We have a fully train staff that is devoted to meeting the needs and expectations of our clients. 

At Marsha's Home Care, LLC we will meet with your loved one and arrange to introduce a qualified caregiver. Every day we assist families by arranging for compassionate care of their loved ones that brings forth a peace of mind.  

Please call us today and we will be more than glad to help you with the care your loved one needs.  

Our rates are competitive, with no hidden fees. 

Our employees are friendly and will be there to help you every step of the way.

Servicing Halifax & Mecklenberg Counties and surround areas

Professional Services for Patients

Marshas Home Care, LLC ®  South Boston, VA  24592

Committed to excellence...

 _________________________

We strive to give families a Peace of Mind while caring for their loved ones.

________________

Marsha's HomeCare Agency, LLC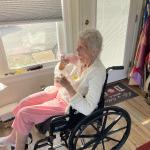 Just another day at Marsha's Home Care!!!